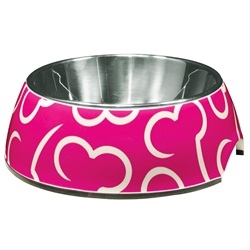 Manufacturer: Hagen Pet Products - duplicate
Model Number: 73729
This versatile pet dish is really 2 dishes in 1 - an accent-patterned outer dish with a stainless steel dish insert. Can be used separately or together. Dishwasher safe.
Dogit Style 2-in-1 Dog Dish-Pink Bones, X-Small. Holds 160 mL (5.4 fl oz).
We are constantly adding new specials to our site. Be sure to check back often!
About us
Our store is about 8200 square feet and it contains an assortment of Salt water fish and fresh waterfish, reptiles, small animals, kittens and our number one item, puppies!