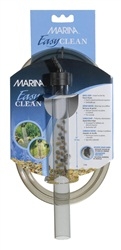 Manufacturer: Hagen Pet Products - duplicate
Model Number: 11060
With many convenient features to offer, Marina Easy Clean Gravel Cleaner is a practical tool for cleaning and maintaining your aquarium. Its quick-start feature provides a hassle-free startup. An exclusive gravel guard keeps the gravel in the tank, not in the bucket. An oval-shaped cleaning tube allows easy access to corners. Plus, it has a comfortable grip and non-kink hosing. The gravel cleaner works well in planted and decorated aquariums. Mini. Cleaning tube size: 2.54 cm (1 in) dia. x 25 cm (10 in) L with 1.83 m (6 ft) hosing.
We are constantly adding new specials to our site. Be sure to check back often!
About us
Our store is about 8200 square feet and it contains an assortment of Salt water fish and fresh waterfish, reptiles, small animals, kittens and our number one item, puppies!